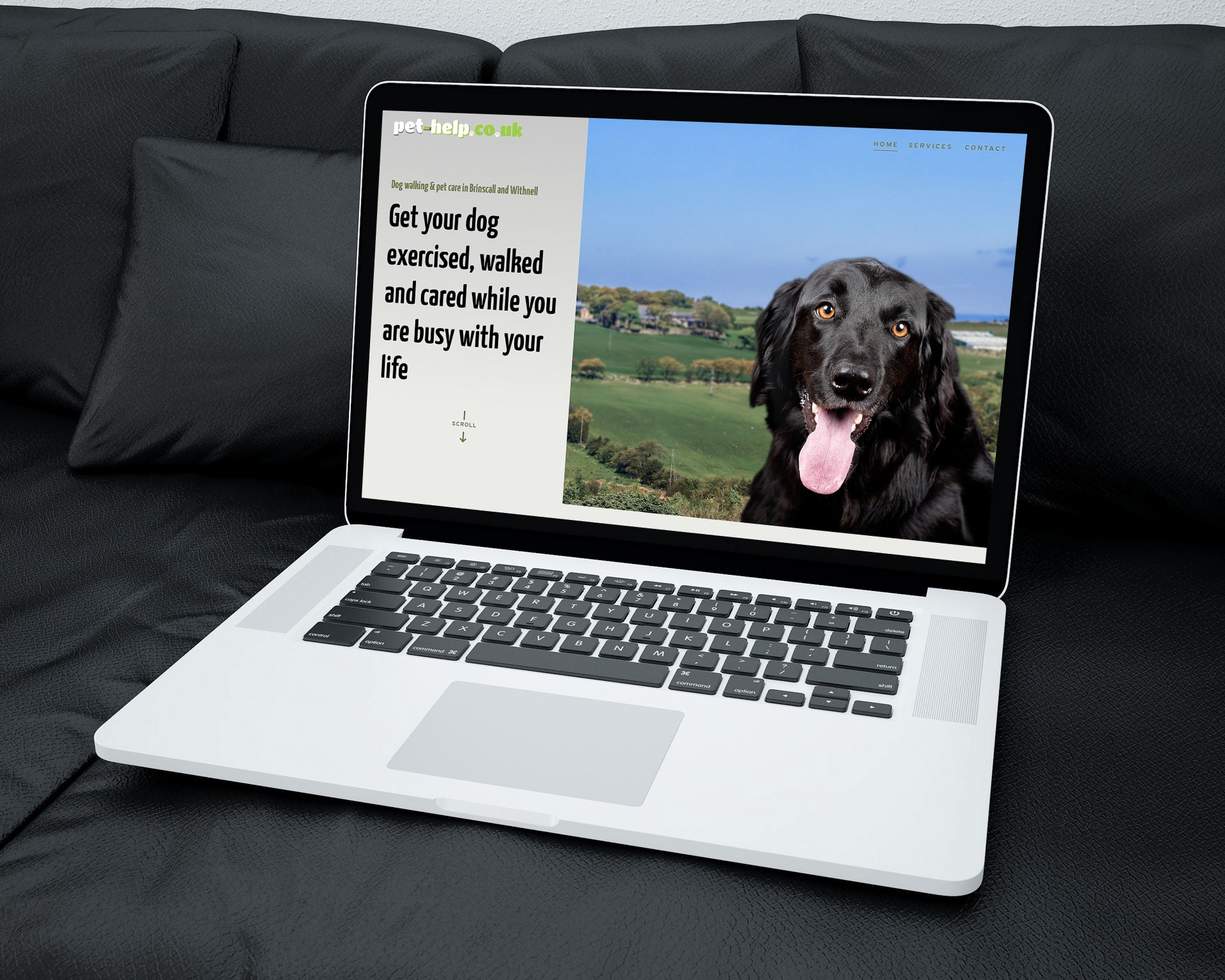 Pet-Help is a local small business. Lynne Roscoe, the owner, is the experienced dog walker, treating pets like their friends, always giving them love and fun they deserve. She service local residents whose busy lifestyle can't allow them to be with their pets as often as they wanted.
Lynne needed a new website for her business as the existing one was not working for her. She required a simple and user-friendly website which would let her prospects easily find out about her services and book her.
Lynne Roscoe used to have a website built on WordPress theme with poor execution. It was generic design with no brand personality and bad user experience. She decided to rebuild the site to reflect her name, attitude and speciality and highlight her local roots.
Lynne has appointed me to take over her existing website from other designer and to make it right. After my investigation, I discovered that it would be more beneficial for Lynne to bin the old website and create a new one from scratch, which she accepted to do. I was working solely on this project along with the client.
I have decided to design a new website from scratch to be able to reflect Pet-Help brand, voice and tone in a better way. The bespoke design always gives more creative freedom to present the brand. The crucial part of the design was to make sure that Lynne's clients, mostly busy local dog owners, can quickly learn about her services and contact her via smartphone
The old website has been owned and hosted by other design company and since their contract with Lynne was about to finish it was important to take over the site before. That shrank the research phase to a bare minimum: competition research, market research. During that I discovered that majority of Lynne's competitors are branch companies, servicing dog owners in bulk, walking few dogs from various households at the same time.
All her local competitor's website was old and unfriendly, very often generic, meaningless and worked poorly on mobile devices.
During the discovery phase and conversations with Lynne, I realised that the most important for her clients is easy to contact, trust and flexibility. They also don't like having their dogs walked with other dogs together..
Lynne is a friendly person and a local dog owner which makes her highly approachable for people living around. Her approach to every dog and experience with pets makes her unique on the market, and this is what I decided to concentrate the website on local, personal, friendly.
I decided to build a small website, only three pages since Lynne customers were not interested in spending hours of reading about pet care, or dog walking; they wanted to hire someone to take their dog out when they are at work.
Firstly I sketched few ideas and then switched to prototyping tool to draw quick wireframes of the future website. At this stage, the most important is to concentrate on the functionality of the website, not the fireworks.
I have decided to use the homepage as the primary driver to tell the whole story of Lynne as a professional dog walker. I divided that page into four parts:- the promise - to tell users what they can expect from Lynne- offer - to tell users what she can do for them- testimonials - to prove she has happy customers behind her back- about - once users know how does Lynne work to tell them who she is.
The call to action button would take users to contact page since that was the decisive action for them, and after filing the form, they would be taken to thank you page for Instagram photo feed. Lynne has accepted the prototype allowing me to start with the design. The user testing was postponed at this period of time due to budget limitations
Because the old website has been completely not personalised, I wanted to bring Lynne's personality to her new website. I spent few hours with Lynne and Rob (Lynne's partner) to learn about her personality, attitude and style. I had a pleasure to visit Lynne at home which allowed me to understand her love to animals and pets of any kind (including the baby bat found under the window in the living room).
Working together with Lynne and Rob we have created the mood board to determine the design language to be used on the website. We have searched various images, and we came up with three words defining the direction:
Based on these ideas I decided to use natural, earthy colour scheme, with tones coming from a photography of the local area taken by Rob.
I had to be careful when choosing the font as I did not want to achieve the retro look, nor to make it unreadable. I have decided to use two fonts from Google: Yanone for headings and Overpass for the body. Both fonts are sans serif, but they have this odd twist which made them perfect for the project.
Rob has provided me with photos of the local area, and dogs Lynne has walked in the past to use on the website.
I have decided to use unsymmetrical layout to present Lynne personality who is not just a random person and to highlight that working with pets may be chaotic sometimes.
For future improvements, I have installed tracking code on the website to monitor traffic, flow, and user behaviour. That will allow me to address any necessary updates and changes in the future.
Also, to complete the experience I have provided Lynne with the new hosting solution, transferred the domain from the previous provider, and help her to set up G Suite to use Gmail as an email client, register her on Google for business and use google analytics along with other Google business apps.
The website was launched in July 2017.
Lynne was happy to see website live, and she confirmed that not long after launch she was getting more and more inquiries. I have planned to come back to the website after two months to verify the traffic status and perform maintenance on the website