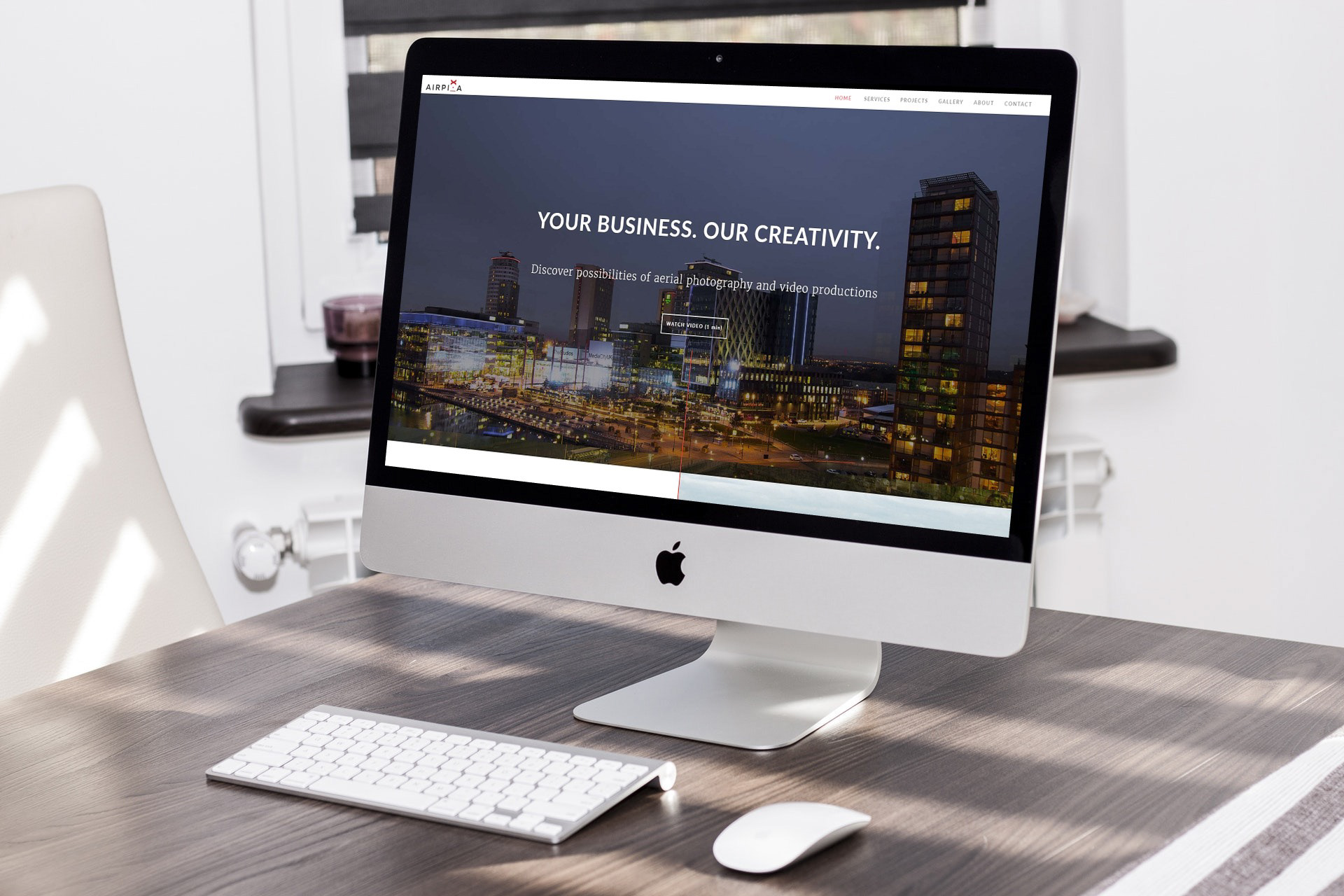 Airpixa is a small but energetic company providing air photography and video production services. They are based in Manchester but serves business across the whole country. ​​​​​​​
During last two years, Airpixa grew significantly and the owners have decided that their existing website is not sufficient anymore. The mobile version of the website has needed be to streamline the website across all devices, make it effective, appealing, representing their position on the market as the specialist within the air photography and video production. Their aim was to attract more large clients and the new, modern website was necessary to fulfil this objective​​​​​​​
The owners are creative people and they insisted on having a website they could easily develop further. They required from me creating a base template, so they could add more pages and content to the website in the future. They had a clear direction in mind as well as wanted to keep most of existing copy to not lose Google search rank. Also, the time and the budget were at the deposit.   ​​​​​​​
To meet the self-editing expectations I have used adobe muse software which allows for easy adding pages and elements into the website on the drag-and-drop basis. The Airpixa owners are experienced using this software hence the decision.
Because customers of Airpixa are large organisations, whose marketing managers often make decisions over their desks I have taken desktop-first approach. I wanted that website to look good on a large screen where all beauty of videos and photos would be nicely presented.
Due to the short deadline, I have decided to go with quick pen and paper prototyping and void the UXPin process this time. The sketches gave me an initial idea about the website structure and plan.
I have built site map and user flow and planned an information architecture.
Due to time budget limitations, I had to abandon full user research phase prior the design and created an assumed personas. I have decided to follow that path with full awareness of the risk it could bring. Although, personas I have created were based on the existing customers which made them a bit more live.
I have assumed that the most important for someone looking for a video production company is the work they create, videos and images. That's why I have decided to build a huge slideshow of pictures taken by Airpixa and include the promo show-reel launch-able after the click.
Airpixa as a creative company relies their future work on the previous projects, hence so important was to create a list of case studies, showing their process and effect. On the side of that, I have built a gallery containing a number of amazing pictures taken on a number of occasions by this talented team.
After I have finished my part of work, which was creating 8 pages (home, about, projects, project presentation template, gallery, gallery presentation template, contact and FAQ) scaling responsively to mobile view I have passed it over to the client to let him finish their project and gallery pages as initially requested.
The website has been launched on the beginning of 2017 ​​​​​​​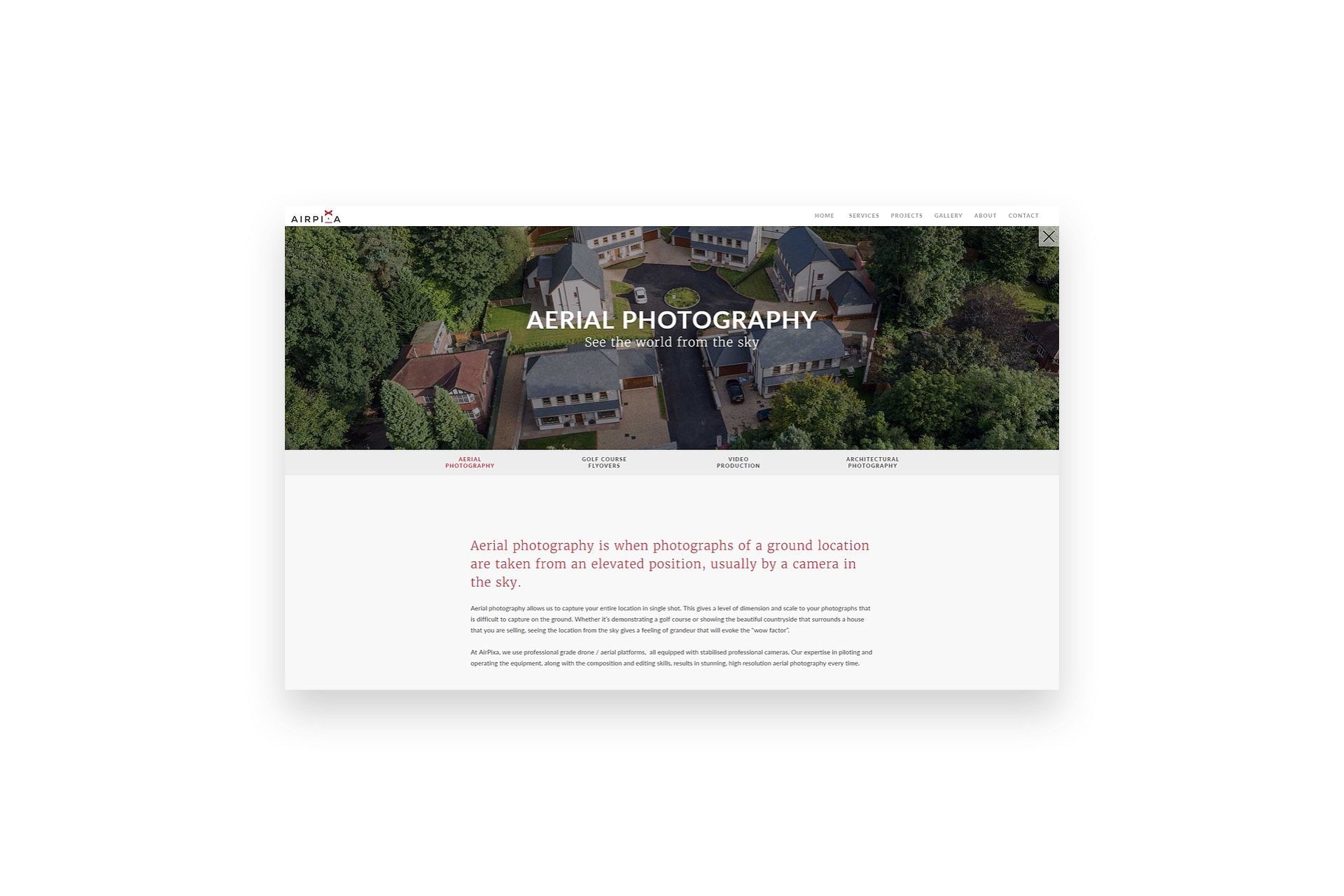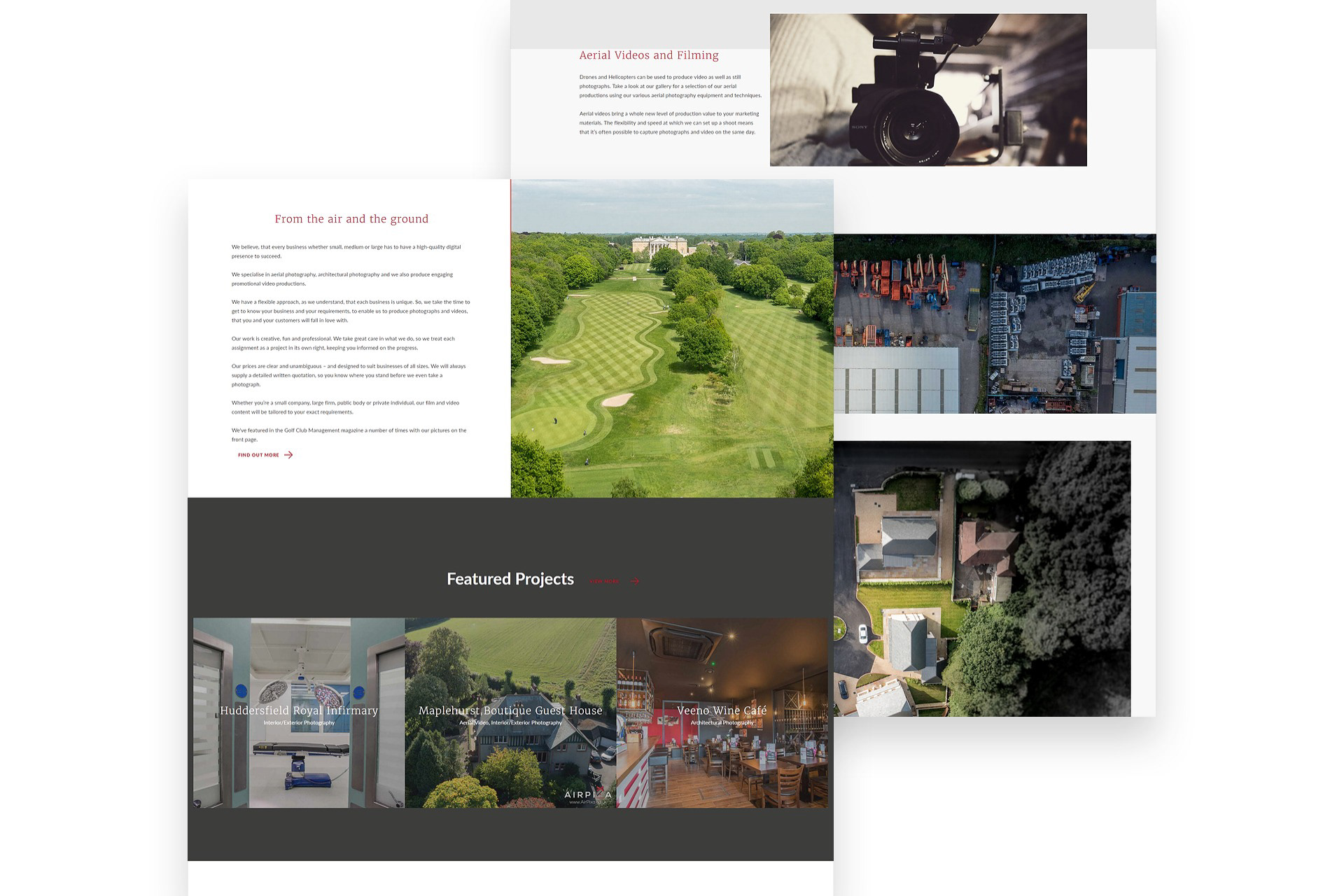 Our website required a major makeover, to showcase the work we do at AirPixa, and at the same time our number one priority was to ensure that the new website has a fully responsive design. It was important for us, that our customers could access our services from any device. We had few ideas of what we wanted to achieve with the new design. Peter was very good at understanding our requirements and suggesting solutions that would not only look great, but also be in line with the user experience. Peter designed our site from the ground up and we are very happy with how it turned out and had positive comments from our customers. We are finally proud to share our web address! If you're looking for a bespoke design and someone that will listen to your requirements, look no further and contact Peter from Effective Designs.